The videos BILL GATES AGENDA (18 minutes) and PLANDEMIC (1 hour) help set the stage for the rest of this documentation.

QUESTION: Did the U. S. Government Censor Stanford and Harvard educated Medical Doctors and provide misinformation to the public?

ANSWER: During United States Government Congressional Hearings, Representative Nancy Mace (R-South Carolina) questioned Twitter executives about censorship. Twitter executive Gadde testified that Twitter was contacted by the United States Government, and told to remove or ban certain Tweets that did not go along with what was being said by Dr Anthony Fauci and the CDC. Ms. Gadde stated under oath that the U. S. Government was responsible for preventing and banning Stanford and Harvard educated medical doctors from warning about vaccines and discussing existing and inexpensive treatments that could have prevented millions of deaths: https://www.youtube.com/watch?v=bDJJ483kvGQ (5 minute video)

Why was this website started? In November of 2022, I was asked to put together some examples of how the CDC withholds, suppresses, and just plain lies to Americans. I thought this would take a day or two, and I would only have to focus on a few people. I was wrong. I had no idea about how many people, government agencies, politicians, corporations, and Billionaires were involved. I found it difficult to find videos and reliable data about these entities. Many videos had been removed (scrubbed). This website is a collection of hard-to-find videos and information about the people involved. I also tried to find a person saying something in their own words, during a live interview. I found a peer-reviewed and published study documenting that Vitamin C, Vitamin E, and Alpha-Lipoic-Acid has been found useful for protecting the health of Chickens under stress, but found no similar research for using these supplements to protect human health. The most disgusting thing I found came out of the mouth of Bill Gates, who admitted during a recorded interview about Covid-19, that he and Dr. Anthony Fauci "made an honest mistake." Most people have no idea that William Henry Gates III funds the CDC Foundation. During this interview with Yahoo Finance, William Henry Gates III and his money discussed how he "consulted" with Dr. Anthony Fauci, and made Public Health decisions for and ON BEHALF OF THE AMERICAN PEOPLE FOR "NEW THERAPEUTICS." This Insider Trading benefited the BILL AND MELINDA GATES FOUNDATION, and ensured increased profits for Bill Gates' mRNA VACCINE INVESTMENT STOCK PORTFOLIO.

CDCwatchdog.com is the "Medical Version" of "DARK SIDE OF THE MOON." Every element ties together a common, increasingly DARK theme, and each element is necessary for an understanding of the "DARKNESS" of the whole, known as COVID-19 and the Rise and Fall of vaccines. IT IS THE STORY OF GREED AND TOTAL DISREGARD FOR HUMAN LIFE - LWP

Just like today, decades old major lie by the CDC and FDA sent millions of people to their graves with heart attacks. The CDC and FDA toold the world that fats and butter are bad, but trans-fat margarine and hydrogenated oils are good. (Butter is actually quite healthy, and unpasteurized butter contains the Wulzen (anti-stiffening) Factor that reportedly helps prevent arthritis. Calves fed pasteurized milk would develop "stiff legs." Heart attacks were virtually unknown before the CDC and FDA started meddling and lying about fats. This was followed by Bread being placed at the top of the "food pyramid." Dr. Anthony Fauci, who told the American people that the Covid-19 "vaccine" was safe and effective, also told 1980s HIV patients to take AZT. Magic Johnson took AZT, but stopped when it made him sick. He is alive today because he stopped listening to Fauci. Freddy Mercury, lead singer of the Rock Group "QUEEN," listened to Fauci and took AZT. Freddy Mercury, along with millions of others who trusted Fauci, died. In reality, the Covid-19 mRNA vaccine has been found to cause a 36% increase in medical problems and death, compared to unvaccinated people. PFIZER tried to block the release of this data for 75 years in court.

I encountered many high-ranking medical and government officials referring to Covid-19 as a "WAR." I didn't know what they meant until I viewed Dr. Robert Malone's recent Lecture in Sweden on 5th Generation Warfare, at which time it became very clear. I paid close attention to what Jordon Trishton Walker, a MERCK Pharmaceutical executive, said during a hidden camera sting operation. Walker tells his male "date" that Pfizer calls their ongoing "gain of function" research by a different name: "DIRECTED EVOLUTION." Walker also claimed he was involved in meetings discussing whether Pfizer Pharmaceuticals should mutate the Covid virus themselves.

I discovered that the lifespan of people living in the United States was increasing before Covid vaccines, but it is now declining, not from Covid, but from what many doctors are referring to as "Amyloid clots" that suddenly appear in people who have been vaccinated. The CDC is hiding the fact that the Covid-19 Spike Protein in the wild AND IN THE mRNA COVID-19 VACCINE caries a trimer with a POSITIVE SURFACE CHARGE that attracts Red Blood Cells (RBCs), and causes AGGLUTINATION (clumping/clotting of Red Blood Cells). RBCs have a NEGATIVE SURFACE CHARGE. The Spike's trimer lowers the NEGATIVE SURFACE CHARGE on the RBCs, which causes them to come closer to each other. If the person already had Covid, some of the RBCs may still have antibodies attached to them, and this difference in surface charge, plus the opposite charge (opposites attract) of the Spike protein, can cause AGGLUTINATION, a condition in which RBCs clump (clot) together in a lattice formation (similar to grapes). RBCs pre-exposed to IVERMECTIN will not clump together, and cells already clumped together after Covid or the Covid vax, will separate after being exposed to IVERMECTIN. For this reason, I believe that Dr. Anthony Fauci and anyone else who withheld information about IVERMECTIN, including, but not limited to: WILLIAM HENRY GATES III and MARK ELLIOT ZUCKERBERG, should be held accountable for (pre-meditated) murder, in addition to violating Civil Rights Statute 18-USC-241, the scheme to use U.S. Taxpayer Funds in exchange for a COVID-19 vaccine that would 1) prevent Americans from getting Covid-19, and 2) would prevent death, and 3) was SAFE. ALL STATEMENTS WERE FALSE. Even adolescents suffered heart anomalies.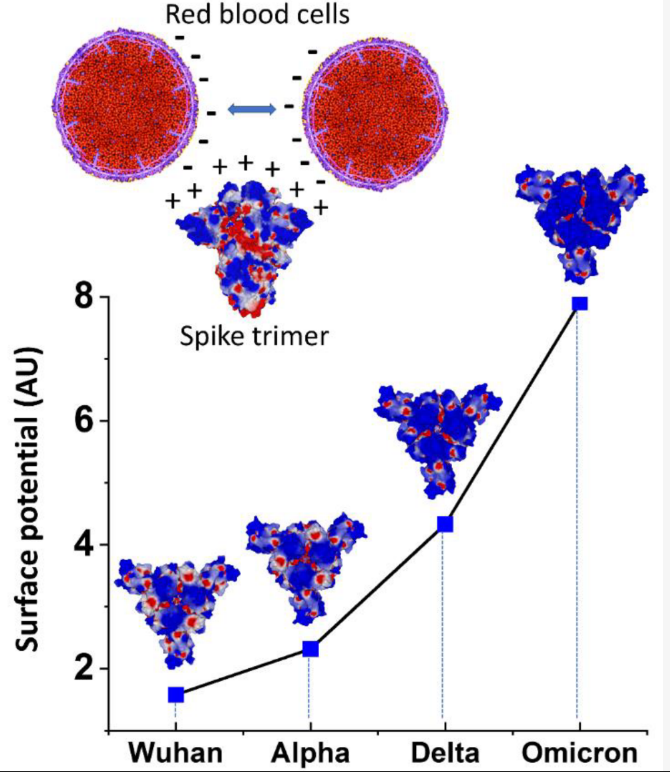 Please note that the Omicron variant SPIKE has about 4 time the surface charge of the Wuhan or Alpha Strains

I found that more and more Americans are now suddenly living with chronic pain and autoimmune disease. The real reason for trying to ban Tik-Tok may be all the kids and young adults who have posted their Covid vaccine reactions online for all the world to see.

I personally experienced withholding of information a decade ago, after I telephoned the Surgeon General's Office at (202) 401-7529, and spoke with Lt. Commander Christine Collins. I discussed my research into Merck's Gardasil HPV vaccine, and reported the deaths of 15 yr old Michael Fisher and 16 yr old Jessica Ericson. I also told her about girls who reported losing consciousness after receiving the HPV vaccine. I told her that two girls had been diagnosed with Sepsis, and explained how a third girl, who is now a doctor, received the Gardasil HPV vaccine in med school and returned to her classroom, and then lost consciousness. When the school nurse took her bp, it was recorded as 50/32. I also spoke of the numerous cases of Postural Orthostatic Tachycardia Syndrome (POTS), which I had traced to elevated histamine due to Mast Cell signalling from a vaccine-adjuvant-stimulated-hyperactivity of immune cells in the gut. Lt Commander Collins replied that she had received calls from other people about problems with the HPV vaccine. I asked her if the Surgeon General could investigate these problems and deaths, and she replied that the Surgeon General's Office had no funding for that, and the CDC or manufacturer would have to investigate. All this information that I turned over to the United States Surgeon General's Office was withheld from the public. To this day, the CDC and MERCK lie and falsely claim that there have been no serious side affects reported for the Gardasil HPV vaccine. Covid-19's Spike Protein is responsible for clotting and inflammation, but the CDC fails to warn people that the same clot-and-inflammation-causing spike protein is also contained in the Covid mRNA vaccine, and researchers found it to last for 2 months, or possible longer.

The CDC continues to LIE about vitamin D. My research found that doctors in the 1930s and 1940s were prescribing from 200,000 to 600,000 international units (iu) of vitamin D per day for asthma and rheumatoid arthritis. No deaths were recorded. Drug Resistant CANDIDA AURIS is now sweeping the country, including hospitals and nursing homes. It tripled between 2020 and 2021, probably from the Covid lockdown that resulted in low vitamin D due to lack of sun exposure. The CDC hides 2015 information that people with higher levels of vitamin D are less susceptible to Candida, but scares people by saying that it is now becoming drug resistant. Recent Peer Reviewed and Published medical papers show that vitamin D is safe up to 60,000 iu per day. I personally take 20,000 iu per day, and only feel a difference when I don't take it for several days. The CDC is totally useless when it comes to timely informing the public about important research. As an example, a recently published Paper (March 1, 2023) shows that vitamin D supplementation reduced Alzheimer's by 40%. The CDC also fails to mention the role of vitamin D in Cancer prevention. Vitamin D may also help to regulate clot formation. I often refer to this abstract, "Vitamin D Supplementation, 25 Hydroxyvitamin D Concentrations, and Safety" found in the American Journal of Clinical Nutrition, as my #1 reference for Vitamin D supplementation. Peer reviewed and published research shows that vitamin D improves cardiac function after a heart attack. The CDC withholds this life-saving information, making me question if the real purpose of the CDC is to promote disease, not prevent it!

The CDC also withholds information about the inexpensive flavonoid Quercetin, and it's ability to help prevent and kill cancer, including breast and prostate cancer. Quercetin also inhibits metastasis (spreading) and proliferation (growing too fast) of cancer cells. Quercetin looks promising for Prostate Cancer in this 2021 Research Paper. It is also a potent anti-inflammatory that helps mitigate Oxidative Stress.

During my research, it became blatantly clear that the prime purpose of the CDC is to protect Corporations and their investors by LYING to the American people. Another honorable mention goes to Dr. Anthony Fauci, who appeared on a 2 hour special broadcast on Public Television (PBS) in the United States. Anthony Fauci was involved in removing the word "PREVENTS" from the definition of a vaccine. The result, according to Fauci, is that a vaccine no longer prevents disease. Another thing I noticed during this broadcast is that Fauci referred to Americans who lived in a certain area as "BLACKS and BROWNS." To me this showed that Dr. Anthony Fauci separated or divided people by their race. Fauci stated that people with Aids demanded that he prioritize research into their disease, which appeared to annoy him because he referred to them as "those people" and how "they don't understand the lengthy research process." Fauci didn't give a sh*t about research when it came to clinical trials with the Covid-19 mRNA vaccine, and insisted that the shot would prevent you from getting Covid or dying from Covid. Both statements proved to be a lie, but it appeared Fauci believed his own lies. DSM5 (mental disorders) textbooks label a person with this type of behavior as a "Pathological Liar." When asked "who is your doctor," Fauci replied: "My wife." This was another all time low for Anthony Fauci. Many of the best Pulmonologists in the world are located in the United States, who were already successfully treating Covid-19 patients. One of these people was Dr. Paul Marik, whose IRB sanctioned trials with Ivermectin with 200 seriously ill hospitalized Covid-19 patients, proved a recovery rate of around 97%, with hardly anyone needing to be put on a ventilator. Bill Gates, who claimed to speak with Fauci weekly, stated he was wrong about masks, and at 1 hour and 45 minutes into this television program, Fauci admitted he also was wrong about masks, but Fauci never told the American People that a real doctor and top Pulmonologist in the world, Dr. Paul Marik, already had a life-saving protocol for Covid-19. Dr Marik Co-Founded the Covid Critical Care (FLCCC) Alliance, while Fauci led hundreds of thousands of Americans to their death by telling them Ivermectin was for horses. Fauci then lied about his allegedly cure-all snake-oil Covid-19 mRNA vaccine. What I got from this television show was that Fauci likes to portray himself as a loner with a great weight on his shoulders. The truth appears to be that Fauci does not play well with others, and does not consult with others. He appears to be fixated on vaccines, even if it kills other people. He gets paid around $420,000.00 per year, and appears to have a government security detailed that came out of nowhere to stop a delivery person with a food going near Fauci's house. Fauci appears to look down on others and degrades and has no tolerance for anyone who doesn't think the way he does. Fauci "plays with words" and puts down people who ask him questions at Senate Hearings. One thing I was not aware of was that Dr. Anthony Fauci feels he is above the Constitution of the United States of America, and has the power to tell Americans what he thinks they should do. Anthony Fauci is a perfect example of what President Dwight D. Eisenhower warned about in his Farewell Address to the Nation. According to Insurance companies, more people were harmed and killed by the vaccine than by Covid in 2022. Here is the SMOKING GUN TELEPHONE CONVERSATION WITH DOCTOR PAUL MARIK STATING THAT FAUCI KNEW HE WAS KILLING PEOPLE. You should also be aware that members of WEBER SHANDWICK, the Public Relations firm that DOES BUSINESS WITH PFIZER and MODERNA, were reported to HAVE A $50 MILLION DOLLAR CONTRACT WITH THE CDC, and be on the VIRAL DISEASES TEAM OF THE CDC IN ATLANTA GEORGIA.

FAUCI: IDIOT or TRAITOR? Under the Clinton Administration, it was TREASON to fund a Communist Chinese Laboratory, especially one doing bio-weapons research. Not only did Fauci fund a Communist Chinese Laboratory in Wuhan CHina, but he also brought over a Communist Chinese Scientist and educated her at the University of Galveston on how to set up a Level 4 Laboratory to work with Infectious Diseases. Dr. Lee Merrit gave a 20 minute presentation and a good breakdown oF Covid-19, which could also implicate Fauci and his ties to a Multi-Billion Dollar Vaccine Empire. If you are in the medical profession, or involved or associated with medical research, you will find this in-depth interview with former Pfizer researcher Dr. Poornima Wagh to be EXCEPTIONALLY INFORMATIVE. HOWEVER, in Dr. Mobeen Syed's lecture on Dr. Pretorius' electron microscope findings on the Spike protein (the 3rd video below), you can clearly see what is claimed to be the Spike Protein's Molecular Structure. Although we appear to be in a type of 5th Generation Warfare of the mind, it's up to you to decide about the origin and existence of Covid-19.

The Government of the United States of America has a history of using it's citizens as "Disposable Pawns." starting with relocating the Indians from fertile grounds to far less desirable areas. There are also stories of Indians and anecdotally exposing them to small-pox infested blankets along the way. Adolph Hitler based his treatment of the Jews on how the American Government treated the Indians. From 1947 until 1961, the United States tested Atomic Bombs in the atmosphere, while assembling unprotected soldiers and school children to purposely be exposed to fallout and radiation. I was one of the school kids who was told it was patriotic to stand outside and watch the fallout. U.S. Citizens, especially in Southern Utah, developed various cancers. Livestock died. The United States Government, just like the tobacco industry in later years, denied that exposure and radiation caused cancer. In 1951, Operation Sea Spray exposed millions in San Francisco to bacterial warfare experiments when the military used Californians as guinea pigs by spraying bacteria in the area around San Francisco. Many people got sick. Some died. MERCK, with the help of the government, secretly put an experimental polio vaccine in the arms of children, including kids at St Francis Home For Orphan Boys, and it changed my life forever. Nobody told me I was being used as a guinea pig. I was 9 years old at the time. My vision suddenly changed. My heart threw PVCs. I got sick in the mornings for about the next two years. I was punished for throwing up. One kind nun even saved my throw-up in a bowl for me to eat for lunch.
I figured I'd tackle one of the most controversial matters first: Ivermectin. When I research articles against doctors, especially on Wikipedia, I search the article for the words "anti-vaccine," "debunked," and "fact-checkers." These are hallmark terms used by Pharma Stalkers when they are caught in a lie, so they falsely slam the reputation of the doctor who exposed them or their lie. I know Dr. Paul Marik and his research with 200 Covid patients at two different hospitals. He conducted his work under the watchful eye of the Institutional Review Board (IRB). I started with a YouTube expert named "Prof Greg" who basically called Dr. Marik's work fraudulent. The problem with Prof Greg was he stated that Ivermectin failed when used with Calu-3 cell lines, which, if my memory serves me correct, has more to do with cancer cells and metastasis. The research that I would have expected him to quote would be based on alveolar cells, the cells that make up much of the lung. This is clearly a case of MISDIRECTION to perpetrate and further a lie against Ivermectin, the drug that was patented by MERCK Pharmaceuticals, and found to be safe and effective by the FDA.

Here is the REAL STORY OF IVERMECTIN:
The following video takes you into the Pathology Lab of Dr. Ryan Cole. He discusses and shows you actual clots from vaccinated people and cadavers. He also uses his extensive high-power microscopy equipment to show the differences in different batch lots and quantities of spike protein from different vials of the Covid vaccine:

In this next video, Dr Mobeen Syed (who provides an excellent lecture series for doctors) gives an easy to understand breakdown on Dr. Pretorius' (South Africa) findings from enhanced light and electron imaging of the spike protein's pathophysiology in the formation of the amyloid-like clots found at autopsy, plus those clots surgically removed from living human beings. Pay special attention from 15 to 50 minutes into this lecture. Pay special attention at 28 minutes, and the Q&A at 50 minutes in. The use of aspirin is discussed at 53 minutes in, and S1 causes clotting (in the lab), even WITHOUT PLATELETS! Medical treatment should begin while clotting labs are still normal (bleeding times, etc.), but when clots and micro-clots are first detected as indicated by increasingly abnormal D-Dimer and C Reactive Protein (CRP) levels. Don't wait until the patient becomes severely ill. At 56 mins in, Dr. Mobeen discusses problems with cell formation being affected by nutrient absorption and conversion to vitamins. The Mechanism Of Action (MOA) of the Spike protein in a vaccine is discussed at 59 mins. USE DISCRETIONARY CAUTION; this is only theoretical, 1 hr in: Dr. Syed then makes the statement that Anti-ACE2 antibodies resemble Spike proteins, so theoretically, if you were to get a Covid vaccine, there is a possibility the vaccine might clear up this condition, but only in some people. HOWEVER, IN OTHER PEOPLE THE VACCINE MIGHT CAUSE THE FORMATION OF ANTI-ACE2 ANTIBODIES!